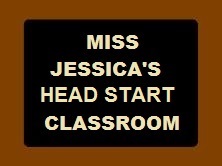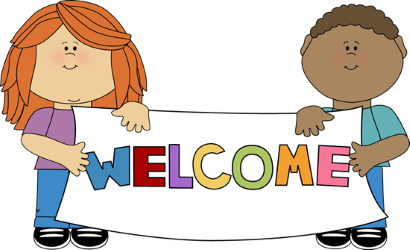 WELCOME TO OUR ROOM!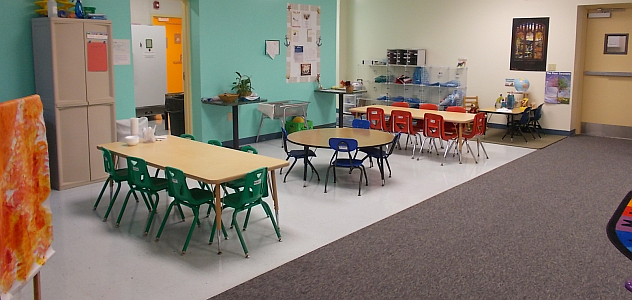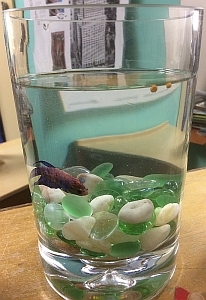 Our pet betta fish, Blue.

| | |
| --- | --- |
| CIRCLE TIME CARPET | SMALL GROUP |
| The circle time carpet is our main meeting spot. Itís where we do our morning work, sing our morning songs, and have our mini-lessons. This area also includes our calendar, daily schedule chart, job chart, and weather of the day. | During small group learning activities the children will be working at these tables. This is also where we will have morning breakfast, lunch, and afternoon snack. Our restroom is the open door down the hall on the right. |
Most of the studentsí time is spent working on centers. The teachers set up the centers with learning goals in mind. Some centers change daily, some are weekly, and some stay the same for most of the year. At this time students are free to choose their centers and move around the room at their own pace during center/free play time.

DRAMATIC/KITCHEN PLAY CENTER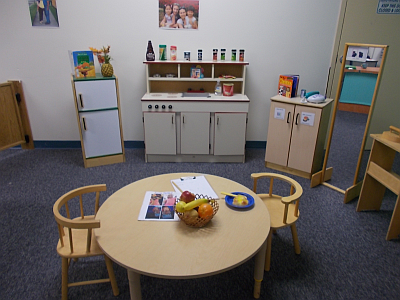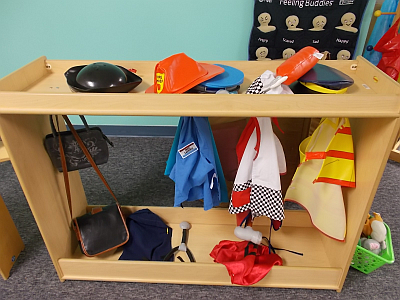 Our dramatic play learning center gives the children opportunities to role play as adults in everyday situations and a variety of careers. Dramatic play encourages creativity, self-expression, and knowledge of the community. A dramatic play learning center can also help teach children about other countries, cultures, and customs.
| | |
| --- | --- |
| SAFE PLACE | LIRARY/READING CENTER |
| The goal of our safe place is to provide students with a place in their classroom that they can go when they are angry, sad, frustrated, anxious, etc... Our safe place has tools that help the children identify their emotion and gain control and composure. This is just like any other center in our room. Students may go on their own, or the teacher may direct them. If it is teacher directed, it is done in a very non-threatening, safe manner. | Our library/reading center is a quiet area where the children can practice reading and comprehension skills that will help them express ideas, explore their interests, and learn about the world around them. The library/reading center helps foster skills in children that will influence their overall success in school and in life. |
| SENSORY TABLE | SCIENCE CENTER |
| This is our sensory table. Children are given the freedom to do whatever they want with the objects on the table. The focus is on how children use the materials on the table rather than whatís created with the objects. This makes the learning process fun as the children experiment with different objects, colors, textures, weights, etc. | Our science center brings the outdoors indoors and gives the children opportunities to explore nature and science concepts. The science center helps foster a strong connection with and understanding of the environment in the children which can be beneficial to everyone's future. |
| ART CENTER | BLOCKS CENTER |
| Our art learning center serves as a great creative outlet for our children to help express their emotions and ideas. Children can experience different textures and use different materials as they create their works of art An art learning center improves fine motor skill development and hand-eye coordination. | The children can improve their motor skills, practice problem solving, and learn to work with their classmates while playing in the block learning center. Block play enables the children to explore their creative side by building unique structures and communities with blocks, block people, and block animals. |
| PUZZLES CENTER | DOLLHOUSE CENTER |
| The children can improve their motor skills, practice problem solving, and learn to work with their classmates while playing in the puzzle learning center. Puzzles are a fun educational toy that challenges young minds, teaching and preparing them early in life some very important life skills.They provide many skills and mental learning benefits and opportunities including cognitive skills, problem solving, motor development, hand and eye coordination, cooperative play, and self-confidence skills. | This is our dollhouse center. In this center we have a large dollhouse, furniture, and small dolls. A dollhouse center can help support oral language development and social skills. |